According to a KPMG survey, for 64% of Swiss consumers, sustainability information is an important or very important part of the purchasing process.
In Switzerland, three quarters of consumers shop online at least once a month.
For these online purchases, the descriptions, photos and videos of the products, as well as the choice of payment options, are decisive.
One in five people in Switzerland is willing to pay more for sustainable products.
Online shopping is on the rise: 76% of Swiss shop online at least once a month. This is shown by a representative study by KPMG in the DACH region (Germany, Austria, Switzerland). However, compared to the beginning of the year, the frequency of digital purchases has decreased slightly. This spring, 58% of Swiss consumers made online purchases several times a month, compared to 53% today. "With the opening of stores in the spring, more has been purchased in the stationary trade. In fact, consumers are increasingly seeking the on-site shopping experience. Stationary retail still has a future," says Jürg Meisterhans, Head of Retail Business at KPMG Switzerland.
The frequency of online shopping
Product information, an important purchasing criterion
Clear product descriptions, attractive photos and videos and a wide choice of payment options have a major influence on the online shopping process. Information regarding the recall of products or the follow-up of returns also plays a decisive role. Generation Z and "Millennials" also value customer reviews.
Factors Influencing the Buying Decision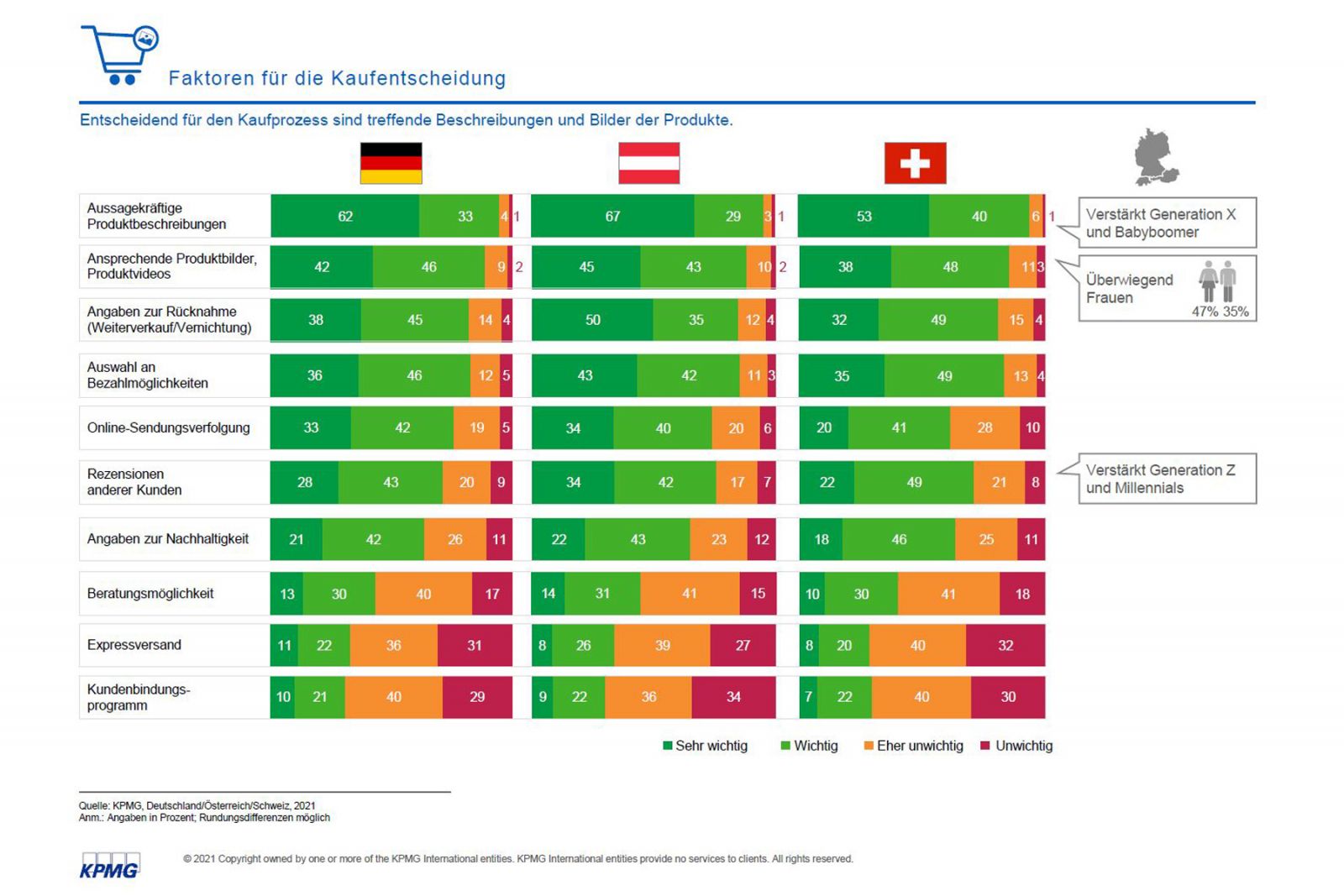 Great need for information on topics related to sustainability
The survey also finds that information related to sustainability is "important" for 46% of Swiss consumers in the purchase decision and "very important" for 18%. Still, between 7 and 29% of respondents indicate that they cannot find good information online or in the store from a sustainability perspective. This mainly concerns fairly new sustainability information, such as water consumption, wage equality, child labor and carbon footprint. For manufacturers and marketers, both online and in traditional commerce, the potential to provide better information is still great.
The availability of information on the different aspects of sustainability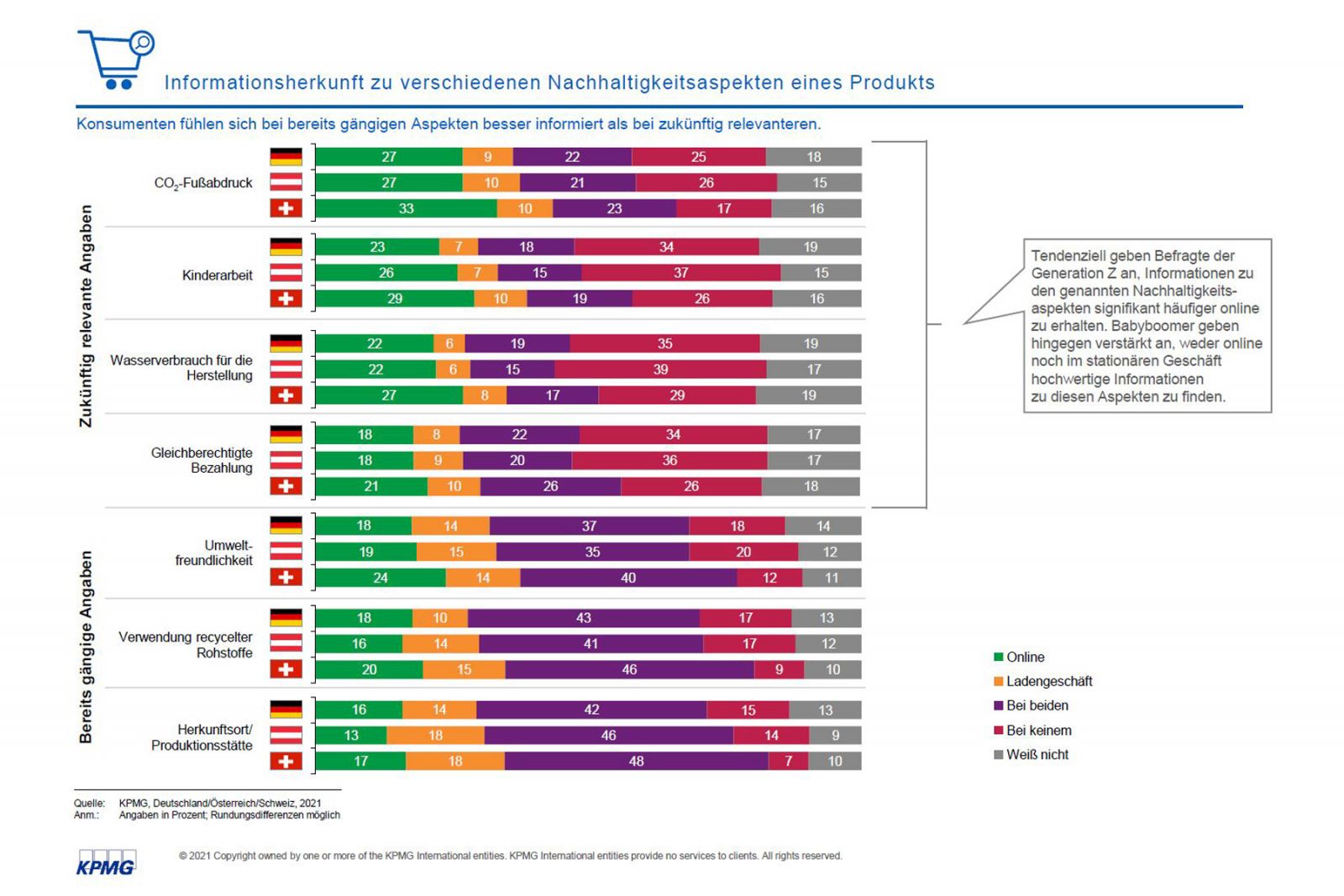 A willingness to compromise – but not on price
91% of the Swiss population is fundamentally willing to compromise in the name of sustainability. For example, half of consumers would be willing to hand in reusable packaging when making purchases on the internet. 44% would accept longer delivery times in favor of sustainability, and only a third would also accept goods that are functional but have minor imperfections.
Despite their good intentions, consumers are more conservative when it comes to money: only one in five shoppers would be willing to pay extra for sustainable packaging. And only 22% would agree to an additional payment to offset the carbon footprint of an online order. "Even though a majority of consumers find it difficult to compromise on price, sustainability factors are becoming increasingly important when purchasing. Traders must systematically take this into account, both online and in traditional stores," says Jürg Meisterhans with conviction.
Willingness to compromise for sustainability
The shipping industry has great potential for this retail expert. For example, almost nine in ten respondents consider it "important" or "very important" to have packaging that is adapted to the size of the product. In addition, 80% are in favor of merchants consolidating more shipments in the name of sustainability to avoid isolated deliveries. "Given this context, the development of delivery logistics, especially the last mile, is interesting to observe," adds J. Meisterhans.
Methodology
This analysis is based on an online market research study. It brings together 3155 people, including 1047 people from Germany and 1054 people from Austria and Switzerland respectively. From a population representation point of view, this research concerns age x sex quota (combination of quotas), size of town, size of household and net household income. This survey was conducted from 01.09 to 13.09.2021.