Modern Dwellings Sinc is a container home construction company that currently only has one model in its catalog. Built with a single container, it is called the True Studio. Made to offer an alternative to conventional housing, while maintaining modernity and comfort to adapt to all lifestyles, the strength of the True Studio is to deliver turnkey, decorated and furnished! The main goal of the company is to let its customers relax and enjoy themselves. No hassle with work, they arrange everything, deliver the house and all you have to do is settle down! Each True Studio is built with quality materials, durable fixtures and finishes to create a modern, sleek and timeless look. Discovery.
A container house of 15 m²
The conversion of sea containers into houses is on the rise… It must be said that the raw material remains very accessible, between 3000 and 5000€ for a used container. They transform into a home, a therapy room, an office, and sometimes even a classroom! The True Studio by Oregon's Modern Dwellings is a small modern house consisting of a bedroom with a bed for two, a kitchen and a bathroom. It has two entrances: the portico entrance on one side and a larger, lighter, glass front door on the side. The designers chose to keep the metallic look by covering it with dark wooden slats placed horizontally. The True Studio comes with many basic features such as: R-30 insulation, dimmable lamps, lots of windows, modern lighting fixtures and a mini split heating and air conditioning unit. It is designed to operate from a conventional socket, but it is possible to make it autonomous by installing solar panels or a Tesla Powerwall.
In the kitchen and in the bathroom
This turnkey container home has a kitchen with tap and sink, 2-burner electric hob and extractor, low mini fridge, custom-made wooden cabinets and shelves and kitchen fan. The floor is in the bathroom brazilian stone and it comes with a rain shower head, modern fixtures, a small sink, frosted glass in the shower, a classic flush toilet and a bathroom fan.
The technical features of True Studio
The floor is made of hardwood, insulated to R21. The doors and windows are made of wood, custom made, as are the counters and shelves that furnish it. This container house has two entrances, front and side, and has a total of six windows. It has dimmable lighting, integrated USB connections. A small covered porch with entrance is embedded in the outer facade which has retained its original metal appearance.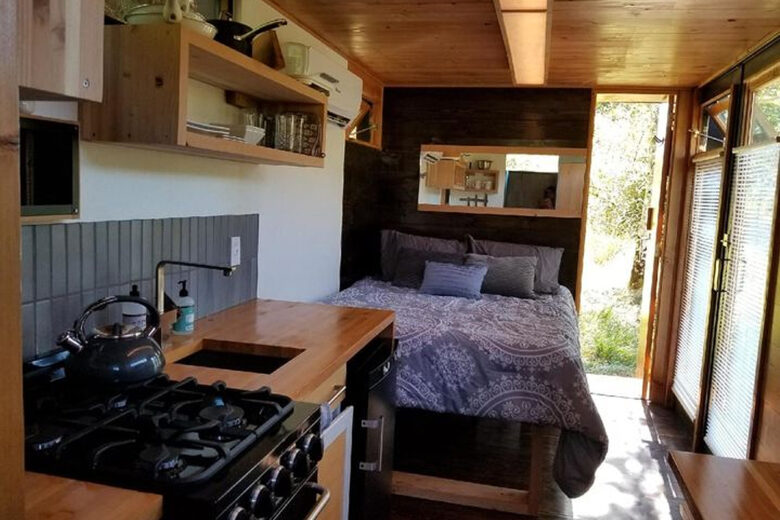 Some possible options
The TrueStudio base price is about € 50,000, but many options are possible:
TESLA Powerwall Systems (from $10,000)
A Goal Zero battery and solar system (from $5000)
Incineration Toilets ($2500)
A smart home technology systems (price on request)
Radiant Floor Heating ($2,000)
An outdoor shower ($850)
Off-Grid Systems ($10,000)
Collecting rainwater ($4000)
Top railing and spiral stairs ($25,000)
Unique off-grid propane appliances (price on request)
An acrylic bath ($1000)
Remote Control Blinds ($2000)
All these amounts are starting prices and can be higher depending on the customization requested by the customer… So this small container house, all options combined, would still cost at least $125,000… A little expensive perhaps for the size, not? Find all the information about the True Studio on the Modern Dwellings Sinc website or rent it on AirBnb. (i.e. in Oregon!)