Buildings heated in winter and cooled in summer thanks to the energy from the ground with Celsius Energy. A recycled and recyclable mini wind turbine, made from plastic bottles, with Philéole. A continuous insulating wrap around the buildings to prevent energy loss and eliminate the need for winter heating with Bhaluu. Recover energy from public lighting and inject it back into the network with Green Tech Innovations, or store the heat produced while driving to heat cars with Cebi.
These technological solutions – 16 in total – were presented on Thursday 28 April at a conference organized by the Solar Impulse Foundation and by the Chamber of Commerce in the latter's premises. Their special feature: they are both environmentally friendly and profitable – guaranteed by their labeling by the Solar Impulse Foundation, which has identified more than 1,000 to date.
You have to convince investors, industrialists, politicians and for that it has to be profitable.
However, that was the whole point of this conference, which brought together the Minister of Energy, Claude Turmes (déi Gréng), the Minister of Economy, Franz Fayot (LSAP) and the President of the Solar Impulse Foundation, Bertrand Piccard: reconciling the environment and the economy. "Between the decline advocated by some and the myth of unlimited growth, there is a third way: qualitative growth," assures Bertrand Piccard. And this one is possible, the 1,000 solutions are there to prove it. According to him, "they show us that we can change our economic model".
Convince decision makers
And they have the advantage of appealing to those who have the means to "change things". "When we talk about job creation, about profit, we are talking about politicians and companies," says Bertrand Piccard. Because, according to him, "modernizing the system, the devices, the infrastructures, is either profitable and offers a very high opportunity, or it is expensive, and we won't do it". It is therefore necessary "to convince investors, industrialists, politicians, and for that it must be profitable".
We have to be honest: right now we are last in class.
Politicians, there were two in front of him. Minister Claude Turmes has not tried to deny the enormity of what is at stake for Luxembourg. "You have to be honest: at the moment we are the lowest in the class," he admitted, explaining this by a very presence and emitting industry in a small area and very high consumption, a consequence of high purchasing power.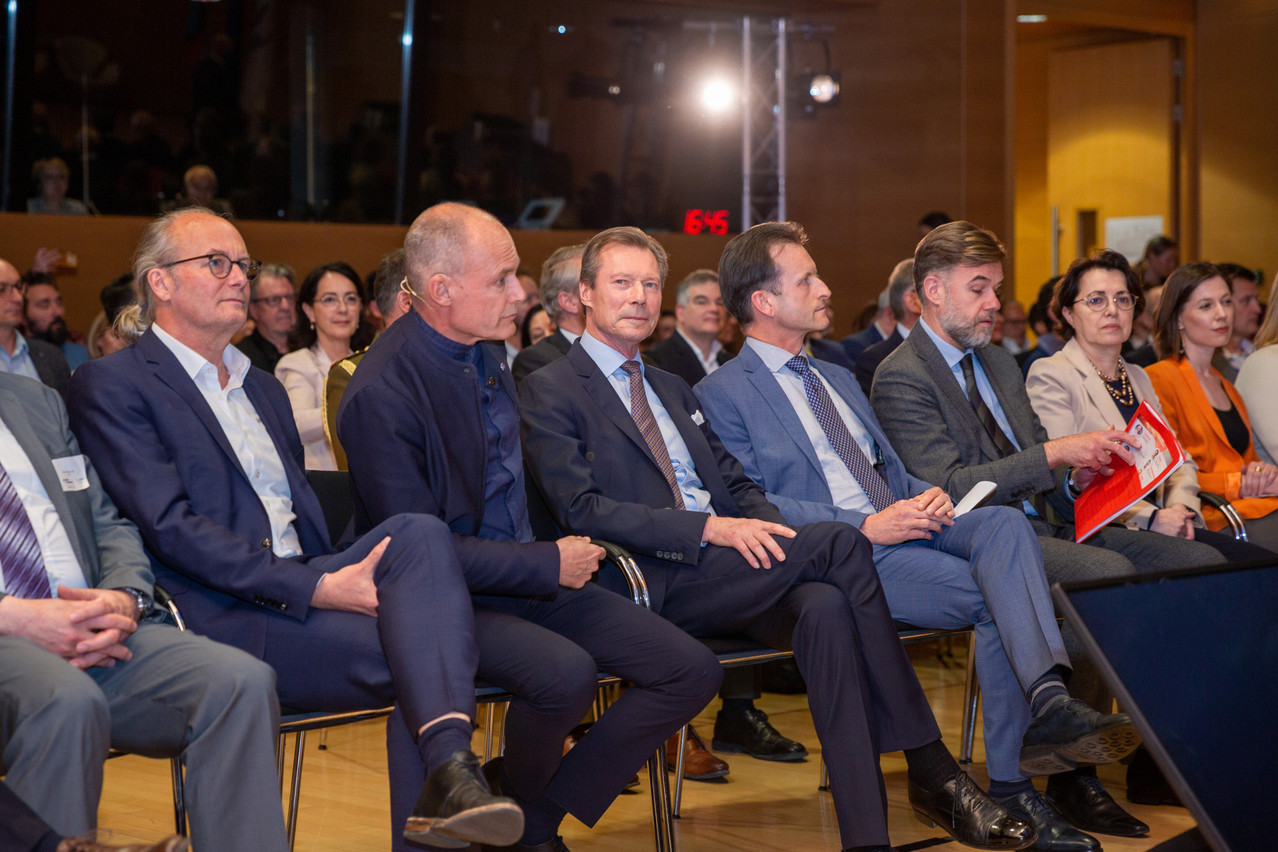 The event organized by the Chamber of Commerce was enhanced by the presence of His Royal Highness the Grand Duke Henri.

(Photo: Romain Gamba/Maison Moderne)

Franz Fayot, meanwhile, called for a "paradigm shift" and "doing better with less". But he also adopted a more offensive discourse on standards: "Binding rules and laws are needed to discourage people from using one solution over the other." This requires "switching". "Luxembourg is a liberal country, we hate to impose things on people. But it is a brake. During the pandemic, we imposed restrictions on society. Perhaps this is a blueprint for this transition."
Luxembourg is a liberal country, we hate to impose things on people. But it is a brake.
The two ministers then sought to demonstrate the efforts already made and to come to achieve this transition – including: very demanding new standards for new construction of 1er January 2023, a new, more refined arsenal of subsidies after the summer, a "zero carbon" roadmap for industry, the Fit4Sustainability program to subsidize and advise SMEs in their transition, the European "Fit for 55" program and the end of combustion engines in 2035, a new 'House of Sustainability' and even a new center project for circular construction.
But it will be necessary to act quickly and even accelerate, Bertrand Piccard recalls: "Everything is there, the solutions are there, and there are more every year. Why isn't it faster?" he asks. "If we miss the target of profitability, the transition will be expensive and will require sacrifices." So an alternative: now effort with advantage. Or later "emergency measures", but "very painful".