>>Stabilize the macro-economy and strengthen the finances
>>To resume growth
UNDP Resident Representative in Vietnam, Caitlin Wiesen.
Photo: VNA/CVN
How do you rate Vietnam's recent socio-economic performance, especially the Vietnamese government's efforts to contain and recover from the COVID-19 outbreak?
We appreciate the government's efforts to make people's safety a priority during the outbreak, especially the government's leadership in the prompt and equitable deployment of COVID-19 vaccines. The vaccination campaign has made the government more open to business and tourism.
All indicators of the epidemic are trending downwards and we are very happy to see primary school students returning to school. These are promising signs for Vietnam and its economic recovery. But even though the epidemic seems to have passed its peak, the crisis is not over yet.
Last year, Vietnam introduced two aid programs for those affected by lockdowns and social distancing, the first worth $2.7 billion and the second worth $1.13 billion. However, this was not enough to protect vulnerable households from loss of income due to the lockdowns. At the peak of the epidemic in August 2021, poverty rose from 10 to 33.4%. Although the support was there, migrants, the self-employed and the homeless were not eligible for benefits.
This has widened the inequality gap between high and low income groups, and people on low incomes will experience the slowest economic recovery this year.
What do you expect from the Vietnamese government to revive the economy this year?
As highlighted at our February "Green and Inclusive Economic Recovery" conference, Vietnam's recovery should lead to economic growth, green growth and inclusive growth. The economic recovery should meet the targets of boosting economic growth and supporting vulnerable households hardest hit by the epidemic. Government has an important role to play in leading environmentally sustainable growth and building the capacity of the domestic sector.
For green growth, we expect investments in a just energy transition and more activities to mitigate and adapt to climate change. For inclusive growth, we expect a comprehensive approach aimed at improving the allocation of financial resources based on socio-economic outcomes and increasing the supply of domestic financing. The epidemic has tested livelihoods and widened inequalities, and if Vietnam is to achieve the Sustainable Development Goals (SDGs), this year really needs to be a year of action.
How do you think the economy will fare amid unprecedented global challenges and other enormous challenges, and what recommendations could be made now?
Growth will accelerate this year as tourism, transportation and other services open up. However, it is unrealistic to think that there will be an immediate return to pre-epidemic growth rates. We face multiple challenges, including a climate crisis; rising fuel prices; disruption of the supply chain due to prolonged lockdowns; and the consequences of the crisis in Ukraine.
The government therefore plays an important role in ensuring that growth is sustainable beyond this year. This includes increasing the supply of long-term financing, facilitating domestic business growth through technology upgrades and government investment, and increasing climate finance, among others.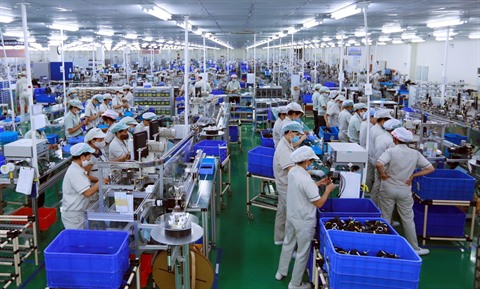 The production line of telecommunications equipment of the company NMS, located in Hà Nam (North).
Photo: VNA/CVN

Given climate threats and the still looming epidemic, Vietnam needs to plan for and increase its resilience to future shocks, man-made or natural. The government must set the target for recovery from the epidemic, achieving the socio-economic development plan and achieving the SDGs. All of this requires an upgrade of the country's growth strategy to be green and inclusive.
To achieve the goal of high-income country status by 2045, Vietnam needs to invest more of its domestic production in domestic competitiveness, increase the value of domestic industries, and improve technological and manufacturing capabilities.
What are UNDP's commitments to Vietnam in achieving its goals of becoming a high-income economy by 2045 and reaching net-zero emissions by 2050?
In order to support the development of strong national production capacities, UNDP, together with the Ministry of Planning and Investment, is researching the nexus between public investment and development results, strengthening the national capital market and restructuring national development banks. We hope to support policy recommendations in these areas and build the capacity of domestic companies to better integrate into global value chains.
In support of Vietnam's commitment to achieve net-zero emissions by 2050, we are taking several actions for a just climate transition. Last December, UNDP and other partners reaffirmed our commitment to Vietnam and the country's efforts to achieve the new climate goals.
UNDP stands ready to partner with the group of like-minded donors on nationally determined contributions to support the government in mobilizing international resources, including a combination of increased public and private investment, building on ODA and low-cost loans to reduce costs for Vietnam and provide the expertise, knowledge and technology needed to accelerate the green transition and improve regulation for a just energy transition.
We are also supporting the Ministry of Natural Resources and the Environment in revising the National Climate Change Response Strategy to align it with the goal of net zero carbon emissions by 2050. The strategy will strengthen Vietnam's clean energy commitments , methane reduction, phasing out coal and forest protection to achieve the goals by 2050 and translate them into concrete actions.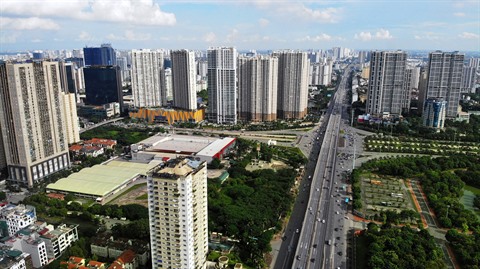 Vietnam has experienced strong economic growth since Dôi moi (Revival).
Photo: VNA/CVN
Building on existing programs with projects funded by the Green Climate Fund and the Global Environment Facility, UNDP is working closely with key government ministries to map the interventions needed in each sector and region and to provide the latest and most reliable scientific research. mobilize information on the current and expected impacts of climate change.
UNDP deepens its partnership with the government to protect vulnerable groups from the effects of climate change with integrated storm and flood resilience programs in coastal provinces, water management in the central highlands and environmental management in the Mekong Delta region, to ensure no one is left behind in the process of adaptation to climate change.
We are also developing a major new project that aims to build the resilience of coastal communities and implement natural solutions to protect mangroves and corals, while supporting local livelihoods and ecotourism.